Meat Substitutes Market by Source...
Product Details
Meat Substitutes Market by Source (Soy Protein, Wheat Protein, Pea Protein, and Other Sources), Product (Tofu, Tempeh, Seitan, Quorn, and Other Products), Type (Textured, Concentrates, and Isolates), Form, Category, and Region - Global Forecast to 2027
Once purchased your report will be sent to you electronically via email. Please allow 1-2 business days for arrival
Pricing:
Single User License: Allows the person purchasing the report and that person alone to view and use the report
Corporate License: Allows the person purchasing the report and any colleague within the same organization to view and use the report regardless of location
Returns or Refunds - The electronic format and type of information provided by Canadean and ICD Research is such that Canadean and ICD Research cannot accept returns of products once they have been dispatched. Refunds will only be considered where the product does not accurately reflect what is being advertised. Refunds may occasionally be offered at the discretion of the management
[233 Pages Reports] According to MarketsandMarkets, the global meat substitutes market is estimated to be valued at USD 1.9 billion in 2021 and is projected to reach USD 4.0 billion by 2027, recording a CAGR of 13.5%, in terms of value. The rising health concerns and the changing consumer perception have fueled the demand for meat substitute products. A healthy lifestyle, supported by the integration of plant-based alternatives, has become a popular notion among consumers who are increasingly open to the idea of plant-based products. Nowadays, consumers are extremely cautious about their health due to increased obesity cases and other diseases, such as cardiac diseases and diabetes. Hence, consumers are changing their food habits and are including healthy diet. The increasing awareness among consumers about the benefits of a vegan diet is one of the major factors propelling the demand for plant-sourced meat products worldwide. However, the rising market of cultured meat and insect protein may hamper the growth of the market.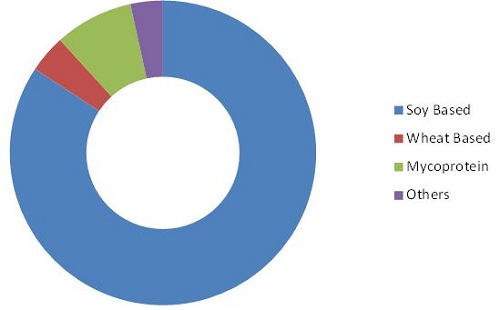 To know about the assumptions considered for the study, Request for Free Sample Report
Impact of COVID-19 on Meat Substitutes Market
Majority of the companies present in the food & beverage industry expect COVID-19 to impact their operations. Indeed, the sector's grim expectations become a reality amid plummeting raw material prices, supply chain bottlenecks, spending slowdowns, and jitters over the credit markets. Some major food & beverage companies have closed facilities and are mulling the extent of layoffs to help curb the spread of the virus, as well as for economic reasons. For example, the food & beverage manufacturing sector, which employs several workers in the US, is poised to be hit hard during this outbreak, primarily for two reasons: (i) many jobs are on-site and cannot be carried out remotely; (ii) the slowed economic activity has reduced the supply. Safeguarding consumer and workforce health is the priority among businesses and governments. Plant closures (full or partial) could continue to be necessary for manufacturers in hard-hit regions for a prolonged period. For companies vulnerable to a viral outbreak within their ranks, this would be a critical time to explore a proactive deployment of automation technologies (collaborative robotics, autonomous materials movement, and industrial internet of things) to decrease worker density throughout their operations.
Market Dynamics
Drivers: Increasing investments in plant-based protein ingredients
Innovations in plant-based proteins have had a positive influence on the development of meat substitute products. Manufacturers are infusing plant-based ingredients to produce meat alternatives, which has gained widespread acceptance among consumers. According to the European Regional Development Fund, 22% of UK consumers convey that they consume more protein from other sources rather than meat. For the millennials and iGeneration, the numbers have increased to 25%, indicating the high growth of the protein alternatives market in the country. This factor proves positive for the meat substitutes market and works in its favor due to the changing consumer preferences and the high adaptability rate among consumers. The increasing investments made by ingredient manufacturers are propelling market growth.
Restraints: Allergy concerns among consumers for soy and wheat products
Incidences of food allergies and intolerances have been witnessed for centuries. However, in recent years, the prevalence of food allergies has increased and has become a great concern for consumers and food manufacturers. According to the Food Allergy Research & Education organization (US), soy and wheat are two of the top eight major food allergens responsible for most of the serious food allergy reactions in the US.' For instance, soybeans are rich in nutrient content, such as vitamins, minerals, isoflavones, and proteins; however, anti-nutritional components present in soy could cause health issues, such as soy allergy. Soy allergy could also lead to itching and hives in people. Other symptoms include gas, bloating, and low levels of irritation of the intestinal tissue. These factors are expected to restrain the meat substitutes market during the forecast period, as soy protein is one of the major sources used to produce meat substitutes.
Opportunities: Emerging markets illustrate the great potential for meat substitutes
Developing countries, such as China and India, in the coming years, will experience a strong upsurge in demand for meat substitutes. This demand is driven by an increase in processed and convenience food production. Emerging economies, such as India and China, in Asia Pacific, are exhibiting high growth. Asia Pacific also provides a cost advantage in terms of production and processing. High demand, coupled with the low cost of production, is a key feature that will aid meat substitute suppliers and manufacturers target this market. Developing countries are experiencing busier lifestyles and changing food consumption patterns, leading to an increase in demand for processed, ready-to-cook, and ready-to-eat food, which is expected to push the demand for meat substitutes in these regions.
Challenges: Pricing pressure
Pea protein is relatively expensive compared to soy protein and wheat protein. Since soy is a well-established product and the availability of raw material is easy, manufacturers have increased their production capacities to reduce costs. However, pea protein, being in its introductory phase, has to overcome these challenges. Its manufacturers are looking to increase production capacities by using advanced technologies for pea protein extraction and processing. However, the less availability of pea protein is forcing food manufacturers to import pea, increasing the price of raw materials and eventually increasing the prices of the final meat substitute products. Due to this, pea protein-based meat substitute is considered a premium product in various countries.
By product, the tempeh segment is projected to account for the second-largest market share in the meat substitutes market during the forecast period
The tempeh segment is expected to grow at the highest CAGR over the forecast period. The demand for allulose has increased as it is a low-calorie sugar, which has same clean and sweet taste as tabletop sugar. Tempeh is a great source of protein and is also famous Indonesian dish. It has a cake-like consistency and is made from cooked and slightly fermented soybeans. The fermentation helps in breaking down the phytic acid in soybeans, which makes the starch in tempeh easier to digest. Though tempeh is highly perishable, in industrial production, it can be stored by drying and/or freezing. Tempeh is chewy and has a nutty and earthy taste. As tempeh is generally made from nuts, it is richer in calories, proteins, iron, potassium, and fibers. The demand for tempeh is increasing, as it is a low-cost product among other meat substitutes, which are rich in protein. Tempeh is firmer and grainy in texture than tofu.
By source, the pea protein segment is projected to grow with the highest CAGR in the meat substitutes market during the forecast period
Based on source, the pea protein segment is projected to be the fastest-growing segment in the meat substitutes market. The rising awareness among consumers about the benefits offered by healthy food products and replacing meat meals with vegetarian diets have increased the demand for plant-based protein. Pea has been recognized as a major source of protein in recent times, and hence, it has been a preferred choice of meat substitutes for the manufacturers of meat substitutes.
By type, concentrates segment is projected to grow fastest in the meat substitute market during the forecast period
By type, the concentrates segment is anticipated to grow fastest over the forecast period. Concentrates, if added to a product, offer a high protein content and very low levels of calories. These concentrates are used as ingredients to enhance the volume and texture of different products.
By form, solid is projected to account for a larger share in the meat substitutes market during the forecast period
By form, the meat substitutes market is segmented into solid and liquid. The solid form of protein sometimes resembles meat in terms of appearance and texture, which makes it a great meat substitute. The solid form of proteins has more shelf life as compared to the liquid form. Owing to this, it is highly preferred by manufacturers and consumers.
To know about the assumptions considered for the study, download the pdf brochure
Asia Pacific's growth is attributed to the increasing awareness of healthy dietary habits among consumers. The key factors driving growth in the Asia Pacific region include health benefits, animal welfare, environment safety, cost affordability, and the growing variety of plant-based meat products. The awareness through global animal welfare organizations, such as People for the Ethical Treatment for Animals (PETA), has led to people considering a meat-free diet. Non-meat-based meals are already popular in Asia, with tofu used extensively in Asian cuisines and bean-based congees widely consumed in countries such as China. This makes the Asia Pacific region the fastest-growing potential market for meat substitutes.
Key Market Players:
Key players in this market include DuPont (US), ADM (US), Kerry Group (Ireland), Ingredion Incorporated (US), Roquette Frères (France), PURIS (US), Cargill (US), Axiom Foods (US), MGP Ingredients (US), The Top Health Ingredients (Canada), Sonic Biochem Ltd (India), Crespel & Deiters (Germany), Wilmar International Limited (Singapore), Sotexpro S.A (France), The Nisshin OilliO Group, Ltd (Japan), and A&B Ingredients (Canada).
Scope of the report
Report Metric

Details

Market size estimation

2019–2027

Base year considered

2020

Forecast period considered

2021–2026

Units considered

Value (USD) and Volume (KT)

Segments covered

Product, source, type, form, and region

Regions covered

North America, Europe, Asia Pacific, South America and RoW

Companies studied

DuPont (US)
ADM (US)
Kerry Group (Ireland)
Ingredion Incorporated (US)
Roquette Frères (France)
PURIS (US)
Cargill (US)
Axiom Foods (US)
Sonic Biochem Ltd (India)
Crespel & Deiters (Germany)
Wilmar International Limited (Singapore)
Sotexpro S.A (France)
The Nisshin OilliO Group, Ltd (Japan)
A&B Ingredients (Canada)
Batory Foods (US)
All Organic Treasures GMBH (Germany)
The Green Labs LLC (US)
Shandong Jianyuan Group (China)
ET Chem (China)
Beneo (Germany)
Target Audience:
Processed food & beverage manufacturers
Government and research organizations
Burger and patties manufacturers
Meat substitute distributors
Marketing directors
Key executives from various key companies and organizations in meat substitutes market
Report Scope:
This research report categorizes meat substitutes market based on product, source, type, form, category, and region.
By Product
Tofu
Tempeh
Seitan
Quorn
Other types (risofu, valess, and lupine)
By Source
Soy protein
Wheat protein
Pea protein
Other sources*
By Type
Isolates
Concentrates
Textured
By Form
By Region:
North America
Europe
Asia Pacific
South America
Rest of the World (RoW)
Middle East
Africa
Recent Developments
In December 2020, Cargill expanded its plant protein product offering in Europe by introducing pea protein. This move will enable the European food and beverage manufacturers to meet the increasing demand for nutritious, plant-based products.
In March 2019, DuPont expanded its Danisco range that features soy protein and pea protein. It has launched six new plant protein nuggets from its SUPRO and TRUPRO product range. These products feature more protein or less sodium than previous offerings and deliver a crispy, crunchy texture.
In March 2019, Ingredion launched VITESSENCE Pulse 1803, an organic pea protein isolate, marking its move into the plant-based protein market.
In February 2019, Roquette Frères expanded its range of NUTRALYS pea proteins by introducing a new ingredient, NUTRALYS L85M. The new product will enable its customers to create plant-based meat products with less salt.
Frequently Asked Questions (FAQ):
Which are the major meat substitutes product considered in this study and which segments are projected to have promising growth rate in future?
I am interested in Asia Pacific market for tofu and tempeh segment. Is the customization available for the same? What all information would be included in the same?
What are some of the drivers fuelling the growth of meat substitutes market?
I am interested in understanding the research methodology on how you arrived at the market size and segmental splits before making a purchase decision. Can you provide me with an explanation on the same?
What kind of information is provided in the competitive landscape section?